לזמן מוגבל
מעיל נשים  Columbia דגם  Copper Crest
נשים יקרות
מעיל נשים  Columbia דגם  Copper Crest 
במחיר מטורף 😱
תחטפו 😍
מחיר  67.61$ שהם כ 231 ₪
משלוח חינם
צבע שחור מידות S,M,XL,XXL במשלוח חינם
שימו לב:  לא כול המידות במשלוח חינם
בנוסף המחיר משתנה בין הצבעים והמידות
תהנו 😍
המידע עדכני לתאריך:
26/11/2022
אהבתם? שתפו!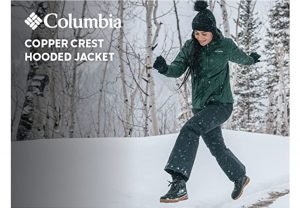 COZY WINTER JACKET: The Columbia Women's Copper Crest Hooded Winter Jacket is a plush fleece lined gem, wrapped in our Microtex Lite II Taffeta shell. This cozy coat will provide comfort and warmth on many winter days, not to mention spring and fall.
ULTIMATE COMFORT: With a super smooth quilted taffeta shell, this insulated and fleece lined coat is designed to wrap you in ultimate comfort during cold winter days.
ACTIVE FIT: A modern cut for active women, this lightweight jacket will feel comfortable during outdoor events and activities. Center Back Length: 26 Inches
BUILT TO LAST: Columbia's attention to detail is what sets our apparel apart. Using only the highest quality materials and expert craftsmanship. Designed to be a worry-free taffeta shell and fleece jacket, one you will enjoy for seasons to come.
HANDY FEATURES: This soft plush fleece lined and hooded jacket contains our mid-weight 100g Microtemp XF II insulation, and provides two gusseted and zippered hand pockets to keep you toasty.
Available in extended sizing.
Description
The Columbia Women's Copper Crest™ Hooded Winter Jacket is made from a super smooth and quilted taffeta that contains an insulated soft and plush fleece. Designed with an active waist cut silhouette, this lightweight coat is a must for any winter wardrobe and is at home on cool winter days, as it is in spring and fall. It is so comfortable you'll want it near your front door, hanging at the ready. You'll be warm, comfortable, and worry-free wearing this fleece lined jacket. Made from advanced materials, this coat includes our 100g Microtemp XF II insulation, wrapped up in a cozy quilted style stitching that features our Microtex Lite™ II Taffeta shell. A hood and zippered hand pockets will keep the extremities protected and warm. This comfy Jacket will defend you from those chilly and cold days anytime of the year. Columbia offers this jacket in multiple colors and sizes. Available in extended sizing. Active Fit. To ensure the size you choose is right, utilize our sizing chart and the following measurement instructions: For the sleeves, start at the center back of your neck and measure across the shoulder and down to the sleeve. If you come up with a partial number, round up to the next even number. For the chest, measure at the fullest part of the chest, under the armpits and over the shoulder blades, keeping the tape measure firm and level.

 Imported. Made from 100% polyester. Zippered closure. Machine Wash.